Solution Architecture
API AutoFlow use case digital health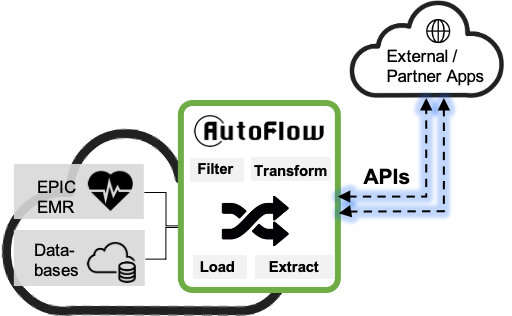 Solution Summary
The health industry is going through interoperability challenges where once-closed data needs to be made available as health providers realize the value of their digital asset.
API AutoFlow is working with numerous health providers to easily transform their legacy data and make it available through modern APIs without any coding. Customers leveraged API AutoFlow to modernize secure access to legacy databases. The hospital IT admin was able to avoid the costly and complex development work of transforming their application to today's API-driven services.
No-code development time enabled access within days (not weeks/months)
IT solutions architects are now able to take ownership of client access to their data sources
API AutoFlow can apply strong authentication, and authorization to secure access
Data Transformation and request routing can be applied by API AutoFlow to meet the compliance and reporting requirements (ETL+)
Development Effort
Total Time: 3 months
Resources: 2 engineers
Business Benefits
Time Savings: 3 months
Cost Savings: $100,000
Estimates based on a traditional development method
Products used
API AutoFlow Cloud
API AutoFlow On-premise
Services Subscribed
Development Services
Solution Support Services
About the Customer
Large hospitals and HealthTech startups in the USA.
For security reasons, API AutoFlow customers generally do not disclose their names as API AutoFlow is deployed in their core infrastructure.